Winchester Cathedral Anglo-Saxon Altar Stone
Winchester Cathedral provided Ian Clark with an equally challenging project. Within the crypt of the cathedral lay a highly significant 1000 year old Anglo-Saxon altar stone. This stone had been identified as providing an integral element to the interpretive collection for the new Kings & Scribes – Birth of a Nation exhibition gallery.
The new gallery is constructed within a spectacular 3-level exhibition space in the southern transept.Winchester Cathedral is a living monument to the heritage of England and is one of the most historically significant buildings in Britain. From the time of Alfred the Great until after the Norman Conquest, Winchester was England's capital and the Cathedral was its royal chapel. Much of England's early history was based here and twelve English kings are believed to be buried here – meaning that Winchester can lay claim to being the first Royal Mausoleum.

Ian Clark was tasked with moving the 1000 year old stone from the crypt, through the nave and up through 3 floors to the upper level of the southern transept.
The first task was to design, construct and erect a modular inclined railway and fail-safe transit trolley system which provided access to the back of the underground crypt out to level ground above the crypt.

Meticulous planning and onsite execution provided a safe and controlled methodology.
This blended composition of conservation, engineering and logistical experience ensured this culturally significant stone was moved and installed with sensitivity and skill.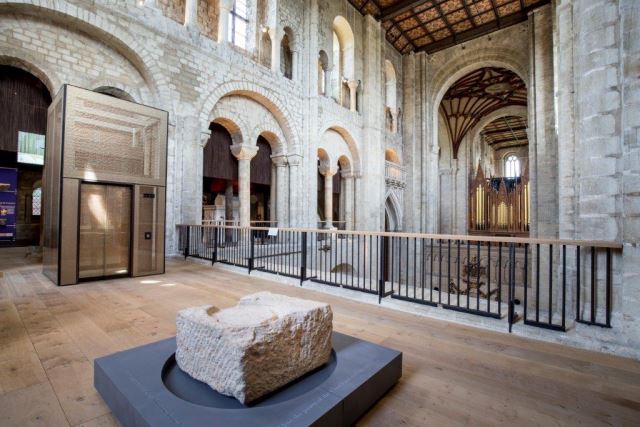 Ian Clark Restoration was asked to deliver an additional element of the Kings and Scribes project. As part of the new display and interpretation phase ICR were asked to lower, conserve and rehang an important altar canopy. The canopy which was historically used to direct and contain the spoken word during service, needed to be repositioned within the new gallery landscape.